Products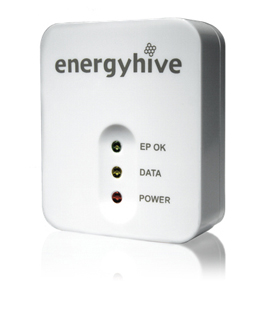 The energyhive hub with a compatible electricity clamp and transmitter is all you need to use the service. The price of £29.99 is quickly justified - studies show people reduce their electricity consumption by up to 20% when they monitor their use. If your annual bill is £400 this would mean you could save up to £80/year.
Visit our online shop and buy now.
Once your equipment has been installed and registered your home or office's data is made available to you through our dashboard.
Our hub is compatible with the efergy and CurrentCost electricity monitors. In the UK these are often distributed by utilities - youmay already own one. See our list of compatible devices.
The hub is not compatible with The Owl or Onzo real-time display devices.
Want to add a Light, Temperature & Motion or Temperature Only sensor?
Place up to five sensors within 30 meters of an energyhive hub to get real-time sensor measurements. The clamp and transmitter count as one sensor so if you are using these you can only have four more sensors.
We offer two energyhive sensors:
Temperature only (longer battery life)
Multi-sensor: light, temperature and motion (shorter battery life)
Includes a battery.
* Note this is not compatible with the Wattson/ Solar hub.
How it works
You need
A compatible electricity clamp and transmitter (also known as a Real Time Display).
The energyhive hub. Both can be purchased through energyhive's secure online shop. If you already have a compatible electricity monitor (CurrentCost or efergy) you only need to buy an energyhive hub.
A broadband connection where you install the energyhive hub.


What happens your end
The sensor jaw (which is part of the electricity monitor) is clamped to the electricity supply beside your electricity meter. The sensor is connected to a transmitter which sends a radio signal approximately every six seconds. The signal is picked up by the energyhive hub.
When you register, the energyhive hub is 'paired' with the transmitter. (If you have an in-home monitor it will show the same data as your energyhive dashboard).
The energyhive hub sends the electricity readings from the transmitter to our database at energyhive over the internet.
At energyhive the data is collected and securely stored and your energy profile is available to you when you login.


What happens at our end
energyhive receives the electricity readings via your broadband every six seconds showing the exact amount of electricity that your home or office is using.
The data is held within a secure environment and anonymously aggregated - no-one else will be able to identify your individual electricity consumption profile unless you permit it.
We keep a long history of the data (over two years) to allow you to see patterns of behaviour and thus identify opportunities to reduce your energy consumption.


Ready to buy?
The energyhive hub costs £29.99. We sell the efergy monitor and clamp for £24.99. You may already have a compatible CurrentCost or efergy monitor and you can often purchase them on eBay (they were provided free by several utilities).
Studies show you can save 20% on your electricity bill when you can monitor your actual consumption in real-time. Buy now, bring your bills down and do your bit to help the environment.
Important: If you know of other monitors which you would like us to add, please contact us.